Currently viewing the tag: "giveaway"
**This giveaway is now closed. A big thank you goes out to all of you who entered. I wish I could give you all a free eBook, but I have to choose just one. That person is… Jen who said, "In trying to slow down, I need look no further than my young children. They are happy with the simplest things…a tree with the ornaments they have made, as opposed to stressing over the perfectly decorated tree; not trying to impress people and really remembering the reason for the season." (Jen, check your email.) If you weren't the winner you can still get a copy of the eBook for only $0.99 today.**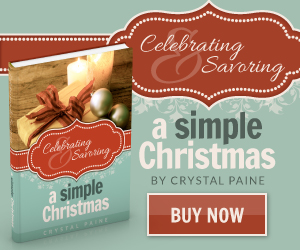 One of my favorite blogs (and daily reads) is Money Saving Mom. Crystal Paine, the brainchild of MSM, always shares great tips and advice about how to save money and living better on less. When I found out about the opportunity to review her latest eBook, I was super excited.
Crystal's advice always comes across in a practical, straightforward and motivating way that makes you think why didn't I think of that? Plus, her common-sense strategies are really easy to implement in daily life. Crystal has done it again with this new eBook, Celebrating & Savoring a Simple Christmas, which shares detailed ways to prepare for and enjoy every minute of this holiday season.
Covering topics like setting a budget, decorating, gift giving, this eBook is filled to the brim with ideas for slowing down and enjoying the holidays. She shows you easy ways to stay organized and de-stressed in what is easily one of the most nerve-wracking seasons of the year. Don't you want to just slow down and enjoy the holidays? Then this book is for you!
Right now, you can buy the book at the super low price of $0.99. At just under a dollar, it will definitely be money well spent.
But, wait, there's more! Crystal has generously offered one Doggone Thrifty reader a FREE copy of the eBook.
To enter, all you have to do is leave a comment telling us how you chose to slow down and celebrate the holidays. Note: This giveaway is a quick one and will end at 3:30 p.m. tomorrow, November 14, 2012.
Good luck!
UPDATE:  This giveaway in now closed.
UPDATE:  This giveaway has been extended until Wednesday, August 15th.
You all know I hate seeing things go to waste (as evidenced by all my Food Waste Friday posts).  That's why I loved Marjorie's Cracked Plate Jewelry.  She takes broken china, something that would otherwise be thrown out, and repurposes it into a stunning piece of jewelry.  Marjorie's Cracked Plate Jewelry is wonderful in quite a few ways.  For one, there are dozens of beautifully designed pieces already on her site.  Additionally, she makes custom pieces for those who have
broken a beloved piece of china and wish to have it memorialized as a wonderful piece of jewelry they can always use.  Her newest piece of custom jewelry was featured on her blog  and it was so touching, it almost made me cry.   A woman who had a son who was very ill and in
severe pain suffered the loss of that son when he committed suicide.  On the day of his death, she broke a saucer.  A friend of hers asked Marjorie to design a jewelry piece from that broken china.  The pendant Marjorie designed was splendid, but it was the story behind it that was so moving.
Anyway, on to the giveaway!  Marjorie was kind enough to offer this stunning piece for one lucky reader!
This yellow pansy pendant with gold artist wire wrap  is 1-3/4″ x 2″ and comes with a black velvet cord with lobster clasp.
The giveaway starts today and continues on until this Friday, August 10th at 9 p.m.  Leave a comment on this post, telling me why you'd love this beautiful piece of jewelry (and who wouldn't?).  If you sign up for Doggone Thrifty via email, "like" me on Facebook, or follow me on Twitter, you'll gain an additional entry into the drawing (just let me know in the comments).  At the end of the giveaway, I'll pick a winner at random and I'll notify the lucky commenter via email.
Good luck!
Hello,there!

Hello! Welcome to the home of practical parenting tips that save you money. I'm Rebecca, the creative mind behind this site.

I am also a professional writer... and I'd be happy to work with you on your next project.

Contact

Feel free to contact me at doggonethrifty [at] gmail [dot] com. I'd love to hear from you!